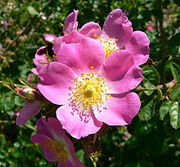 Roses are best known as ornamental plants grown for their flowers in the garden and sometimes indoors. They have been also used for commercial perfumery and commercial cut flower crops. Some are used as landscape plants, for hedging and for other utilitarian purposes such as game cover and slope stabilization. They also have minor medicinal uses.
Uses in Witchcraft:
Edit
v

 

Prophecy
Love, psychic powers, healing, luck, protection. Use in love spells of all kinds. Drink rose tea before bed for prophetic dreams. Domestic peace and happiness, promotes joy of giving. Helps clear away headaches, dizziness, mouth sores and menstrual cramps. Heart and nerve tonic
Ad blocker interference detected!
Wikia is a free-to-use site that makes money from advertising. We have a modified experience for viewers using ad blockers

Wikia is not accessible if you've made further modifications. Remove the custom ad blocker rule(s) and the page will load as expected.