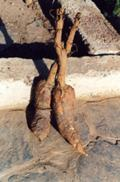 CAUTION: POISONOUS!

Mandrake Root grows in damp wooded areas of eastern North America and is of the deadly belladonna family also known as a nightshade. Displaying deep green leafy foliage that stands erect and small flowers above the earth, underground the root is deep white in color and resembles a human phallus and torso, often in twisted or forked segments. The Mandrake Root contains toxic hallucinogens and is not to be ingested. It can grow between 4-5 inches to 1-2 feet in length
Considered the most powerful herb for magical purposes.
Protection
Fertility
Money
Love
Health
Prosperity
excorsing evil
 Mandrake intensifies the magick of any spell. To charge mandrake root with your personal power, sleep with it for three nights during the full moon. A hallucinogen when used in tea- it has great power as a visionary herb, empowering your visions and propelling them into manifestation. A whole mandrake root placed in the home will bring protection and prosperity. Carried, it will attract love and couage.