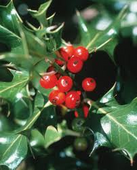 Do not consume, for ritual use only.

Used as decoration during Yule
Holly
stable marriage

love

luck

dreams.
Plant outside the home for protection.
Root

An excellent protective herb, keeps away lightning, poison, evil spirits, and other malign forces. The wood is used for all magical tools as it will enhance any wish you have. A powerful protection.
Ad blocker interference detected!
Wikia is a free-to-use site that makes money from advertising. We have a modified experience for viewers using ad blockers

Wikia is not accessible if you've made further modifications. Remove the custom ad blocker rule(s) and the page will load as expected.