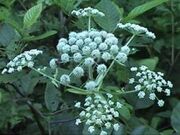 *CAUTION: POISONOUS*
Hemlock and Hemlock root are used as the bases of most every potion.
Keep in mind that this herb is known to destroy sex drives.
Negative uses:
Edit
Oil - good for anointing talisman of destruction
Incense - enrage minds
Oil added to leaves of herb - more peaceful way to disperse enemies.