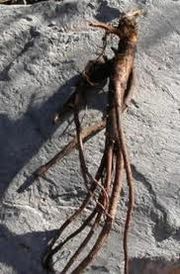 CAUTION: AVOID EXCESSIVE CONSUMPTION*
Comfrey Root is a perennial herb with a black, turnip like root and large, hairy broad leaves that bears small bell-shaped white, cream, purple or pink flowers. Mature comfrey plants can be harvested up to four or five times a year.
One of its country names was 'knitbone', a reminder of its traditional use in healing. The herb contains allantoin, a cell proliferant that speeds up the natural replacement of body cells.
Uses in Witchcraft:
Edit
Helps you hold onto money you have or the money that you win from gambling

can be carried for safety and good health while travelling or when away from home

Healing

  

Sleep
strong herb for protection against any type of negativity, especially when traveling, and particularly for protection in the astral realms. Very nutritious, beneficial for healing sprains, strains, fractures and sores. Also soothes an upset stomach.
Information:
Edit
Comfrey Root is used to treat a wide variety of ailments ranging from bronchial problems, broken bones, sprains, arthritis, gastric and varicose ulcers, severe burns, acne and other skin conditions. It is also said to have bone and teeth building properties in children, and have value in treating 'many female disorders'. It is proven to soften tissue and prevent blood clotting.