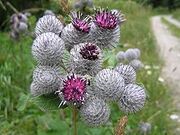 Arctium is a genus of biennial plants commonly known as burdock, family Asteraceae. Native to the Old World, several species have been widely introduced worldwide.
Uses in Witchcraft

Edit
Used in protection incenses and for healing, especially the feet. Carry as a protection sachet or burn for purification of a room. Rinse with a root decoction for ridding oneself of a gloomy feeling about yourself or others..
Ad blocker interference detected!
Wikia is a free-to-use site that makes money from advertising. We have a modified experience for viewers using ad blockers

Wikia is not accessible if you've made further modifications. Remove the custom ad blocker rule(s) and the page will load as expected.