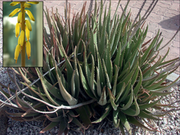 Aloe Vera is a common herb most commonly seen in gel form for healing purposes.
Uses in Witchcraft:
Edit
Used for Protection and Healing
Information:
Edit
Ingestion of Aloe vera is associated with diarrhea, electrolyte imbalance, kidney dysfunction, and conventional drug interactions; episodes of contact dermatitis, erythema, and phototoxicity have been reported from topical applications.[ Diarrhea, caused by the laxative effect of oral aloe vera, can decrease the absorption of many drugs.
Ad blocker interference detected!
Wikia is a free-to-use site that makes money from advertising. We have a modified experience for viewers using ad blockers

Wikia is not accessible if you've made further modifications. Remove the custom ad blocker rule(s) and the page will load as expected.